Jake Hamilton


The Curtis P-40 "Warhawk" in some ways, may have been the closest thing to a "standard," American fighter plane in WW II. It went into service before the war and was still flying after. Warhawks were, as Stan describes them to Wendy, "plain dependable," and they were used in every theater of combat.

In the movie, the P-40 is piloted by Storm Austin. Good from start to finish, he has no character arc. "He's a good kid," says Coach Dan Abrahms. Storm helps his classmates and team members and his virtues are recognized and admired in the end by the enemy spy he inspires to change.


Storm Austin was played by JAKE HAMILTON of Richmond, VA.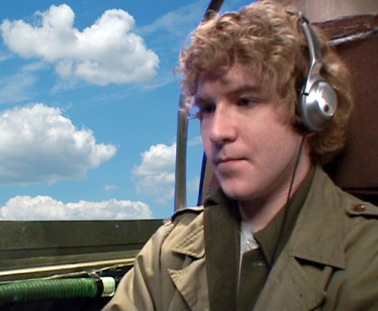 JAKE is an improvisational comedy star on stage in Richmond (Comedy Sports), writing and performing.
He is currently working on an independent movie.
He is also completing a World War II feature-length screenplay.
He can be reached via Capital Media Enterprise, Inc. for acting roles.

During the making of SCRAMBLE!, he reassembled the cockpit shown above, after it was moved to a studio, and he designed and built and managed props for the Danville airport STORM VS. HUNTER ("You're a spy!"), confrontation scene. He ran camera, helped direct, and was generally indispensible on the days he joined production. He is an amazingly good actor (every recording "take" a good one), and brought inspiring dedication to the set.