David Witt



Central High School's irascible Principal Scott Simon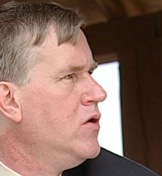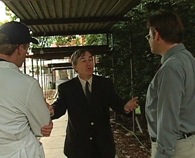 was played by DAVID WITT.

David Witt, has performed in the following films:
"EVAN ALMIGHTY" - Universal.
"IRON JAWED ANGELS" - HBO
"CAPITOL CITY" - ABC, Dreamworks TV
"GOD AND GENERALS" - Antietam Film Works
"SALLY HEMINGS - AN AMERICAN SCANDAL" - ABC
"THE LOVE LETTER" - Hallmark Hall of Fame
"ASSAULT AT WEST PONT" - Showtime.
"BROADCAST NEWS" - Garcie Films
"SONG IN THE KEY OF DEATH" - Arlington County Cable
"Lake Effects"

October 2010 - David has just finished a student movie at William & Mary, and is acting in 48 hour film festival projects.

and on stage in:
Mr. Bundy - as Jimmy Ray
Night of the Living Dead - as Harry Cooper
The Women of Lockerbie - as Bill Livingston
Of Thee I Sing - as Mathew Fulton
The Nerd - as Rick Steadman
Noises Off - as Llyod Dallas
The Rainmaker - as H. C. Curry
Oklahoma - as Andrew Carnes
Boing Boeing! - as Robert Castan
Company - as Larry
Crazy For Your - as Bela Zangler
Taming Of The Shrew - as Merchant, Lord.
Moonlight and Magnolias.


David Witt earned his Theatrical B. A. at the College of William and Mary.

He is also active in valley theater, performing with Ampersand Arts, Oak Grove Theater, Waynesboro Players, and Mary Baldwin College.

During SCRAMBLE!'s production, David acted, and also ran camera, and audio, helped with lighting, blocked scenes, and directed. He gave the movie's final cut approval.

Behind the scenes:
"In my assessment," says co-writer, Jody Rawley, "the Principal Simon character, as it is written, is the most complicated and difficult to portray. The lines are emotional and some conflict with gestures, which fairly subtley, have to carry much of what the character is communicating. The character is at turns, angry, surley, and frustrated, yet simultaneously pragmatic, sensible, and correct. As Coach Dan Abrams is the over-controlling father of Rapunzel, Principal Simon mirrors him to some extent as the out of control (with genuine concern), sometimes childishly demanding, over-controlling authority figure for the entire school. It is a highly sympathetic character who through most of the movie is supposed to also vex the audience (as a villain and antagonist). It is so complicated I wasn't sure anybody could really get it right."
"David showed up and, well, it's all there on the screen. His performance is perfect. If the movie is re-made with a megamillion dollar budget, they had better hire David."

Fun note:
The "coaches' war room" scenes, outdoors in a football field press-box tower beside a road, were filmed over several days - the hottest days on record (we wore coats and ties), and the road traffic was so loud we coudln't hear ourselves.





Jacquie Harvey


"Michelle Martin" is math teacher, and mentor.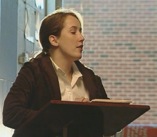 JACQUIE HARVEY played Michelle Martin.

Behind the scenes:
Traditionally, movies were shot "single camera movie style," and SCRAMBLE!, for the most part, was done this way. The technique requires one camera to shoot every angle in every scene, sometiems over and over. Even if they try to repeat their performance precisely, it is almost impossible for actors to re-play a scene exactly the same way. As actions (placement of an arm in motion, a smile, a glance, a raised eyebrow or expression), invariably don't match when spliced, this makes editing the art and challenge that it is.
Jacquie performed, then re-created the exact same inflections of voice and expression and gestures perfectly - over and again. Anyone in the editing suite would swear it was the same single scene shot simultaneously with ten cameras!
We could have cut her scene a thousand ways and every one of them would have been flawless.
Message: if you are looking to hire an actor for a movie, Jacquie will save you a ton of money in post.

Fun note:
When Jacquie threw the paper airplane into the trashcan, she reacted with the subtle "Mona Lisa smile" you see on camera. She silently counted herself out of the scene then threw her hands up over her head in triumph. It is fun and is on the bloopers reel on the Special Features DVD.

Jacquie Harvey can be reached for acting jobs via Capital Media Enterprise, Inc.