Laura Kirkpatrick - co-writer/producer.
James Elia - director of photography.
Jody Rawley - co-writer/producer, actor, crew.
The basic story
SCRAMBLE! is "the Rapunzel story"
- in (a contemporary, generic, U. S.), high school - during the Battle of Britain (plus the Cold War).
- Simple.
Teenagers
see the familiar fairy tale, - with a pep-rally, which proves to be quite popular with girls in test audiences.
Aviation history fans
will recognize it as a review of 20th century aerospace technological evolution (and some referenced major events).
Aviatiors
, such as members of the Civil Air Patrol, will see the exciting contemporary merging of technologies (such as telepresense, Light Sport Aircraft, and electric engines).
Radio Control
builders and pilots will see the movie showing rc's development (small balsa and paper to 23 foot wingspan four engine giants, to turbine jets and on-board cameras), and its growing international popularity, respect, and potential.
Teachers
, will see something very rare: a movie that inspires students to learn and models good behavior.
Parents
can see it as the cautionary tale that the original "Rapunzel" was intended to be.
The Basic Facts Press Kit
94 minute movie sold with 68 minute Special Features DVD
Capital Media Enterprise, Inc. 2008
- shot primarily on a SONY DSR-300 MiniDV camcorder, with a 4:3 aspect ratio and 725 original scan lines of resolution.
Also used were: a SONY Beta SP digital camcorder and a SONY PD-150.
Microphones used included cable separated camcorder mics and remote lavalier microphones.
A minimum of ADR "looping" was needed.
Post Production was accomplished with Final Cut Pro Studio, operated on a Mac G-5.
Various elements, images, animation and sound effects were generated or processed on a suite of Apple computers including: G-4s and G-5s.
Filming began in Staunton, VA Thanksgiving weekend, 2005, at the Virginia School For The Deaf & Blind.
Scenes were completed at nearby farms, Expoland in Fishersville, Enon Park in Chesterfield County, Art Works in Richmond, Chimborazo Park in Richmond, a garage, Paladin Pictures' Studios in Charlottesville, and the Danville VA airport.
Various "pick-up" scenes and quick clips were shot in Culpepper, VA, also at Warbirds Over Delaware (Lum's Pond in DE), SKYMAC Gathering of Giants in Bowling Green, KY, Gathering of Giants at Danville, and RDRC Fly for Tots near Raleigh, NC.
Still frame background images and short, background video cliips were created along overlooks on Skyline Drive in Virginia, Blowing Rock, NC, and Pilot Mountain, NC.
5 cities, 4 states
2 years 9 months in production
1 year 4 months post-production
Cast - speaking roles: 20
Cast also crewed.
Additional contributors for crew: 39
Extras: 42
Capital Media Enterprise, Inc.
scramblethemovie.com
scramblemovie.com
(804) 751-1295
rawley.tv
A low budget independent movie:
Anyone with a script, some outdated equipment, and a dependable desktop editing system, can take heart from the making of the movie, SCRAMBLE!

Pre-Production:

Co-producer, Laura Kirkpatrick of Staunton, Virginia, perfected Jody Rawley's script and gathered a local cast (who also crewed). Rawley brought three old SONY cameras (VX-1000, PD-150 and DSR-300), each considered obsolete when production began. "We had some money to start," says Rawley, "about thirty thousand that we planned to spend on the set, and also in and around Staunton." The state arranged a location for us at a very, very generous rate. Then unexpected delays in approval postponed production for months. "That used up a lot of our money," says Rawley.

Production:

"On our first day of work we were nearly broke, and suddenly lost co-stars (due to the delay). It was November and we were facing winter in the mountains. As soon as we had establishing shots for the indoor scenes (locking us into the location),we had to give up the location."
Rawley quickly shot digital stills. "So we'd be able to chromakey the rest of the movie," he says. Sort of. "I was unaware that digital video will not key competely unless you have a 4:4:4 image sampling rate. We were using 4:2:2."
"Obstacles mounted, but our determination steeled," Rawley explains.
For one reason or another (injury, surgery, divorce, relocation...), cast and crew became ever more difficult to schedule. "I was commuting from Richmond to Staunton a few times a week for most of a year," Rawley remembers. "Sometimes it took a month to get a minute on screen. Later, when I was learning the animation with my father, sometimes it took a month to get one second of usable footage."
"We'd get an actor as we could, one here, one there, and key them into scenes. They weren't where they appear to be on screen, and sometimes the actors they are talking to weren't there either. We just edited to make it look like they were."
In the last scene, for example, "Ed" (taped in Waynesboro), makes a comment to "Rapunzel" who is in an airplane (she was photographed against a blue screen in Charlottesville, and the airplane is a composite still), while her father, leaning in the door of the plane (in Durham N.C.), relays the comment to her. "Fiz and Briana" (in Richmond), wave and call out to Rapunzel and to a group of waving well-wishers (in Waynesboro/Fishersville). If the plane had taken off (as the script calls for), it would have been in Pennyslvania. Those images were cut.
"We worked with what we had. It's not a seemless fit," Rawley admits, "but it tells the story."

Post:

We finished the last 90% of the movie, over three years, without actors or locations or money.

Photoshop was a key program in the making of this movie.
Every part of Final Cut Pro Studio was used: including SoundTrack, Color, Motion, Compressor, and DVD Studio Pro.
There are some extra ingredients
(Vue 6 infinte 3D, Logic 8, Particle Illusions, purchased music, a few library sound effects, SketchUp, purchased 3D models and an iMac), but
SCRAMBLE! is essentially, just a good script, some excellent actors, an old camera, an old mac, and a Final Cut Pro and Photoshop - movie.
Ad:
It's an educational movie for the entire family.
R/C World War II warbirds star in the movie as they are built, tested and flown by students in aerial combat competition.

It's the perfect gift DVD for the flying scale model enthusiast who wants to introduce the RC aviation hobby to a new generation.
RC warbirds piloted from fully immersive telepresent remote control cockpits on the ground, put high school air teams in World War II air war action.
SCRAMBLE! introduces audiences to Unmanned aerial vehicles (UAVs) or "Unmanned Aerial Systems" (UAS), and to the art of telepresent flight.
It's a high technology demonstrator that appeals to home cockpit builders, PC pilots, warbird fans, flying game pilots, aviation historians, and of course, RC flyers.

Homeschool teachers and students love SCRAMBLE!


SCRAMBLE! is a "film," - a movie with characters (great new actors), a story and drama.
It is not a Fly-In event video and it is not a "how to" instructional tape.
SCRAMBLE! is unlike any RC video you've ever seen.
Press kit information to localize the story:
ACTORS AND CREW ARE AVAILABLE FOR INTERVIEWS IN:
Richmond, Petersburg, Staunton, and Waynesboro.
Additional contributors
(such as air show hosting rc clubs and scenic backdrop providers), are available for interveiw.
Interviews can be for print or video, broadcast and netcast (college radio and podcasts for example). High quality production photographs are available from each production location. Low quality "screen captures" of the scenes as they appear in the movie are also available for reproduction.
For BRAZIL
Jogos de amor e guerra
Um combate aéreo sobre uma típica highschool em um lugar qualquer dos Estados Unidos molda as incertezas da adolescência em Scramble!
Scramble! é uma experiência cultural.
Quando uma batalha entre aeronaves toma conta dos céus de um típico high school americano, em tempo e local indeterminados, adolescentes assumem os cockpits para o desenrolar de uma trama juvenil sobre relacionamentos com toques de surrealismo – há muito pouco de verossímil em uma guerra entre aviões de pequeno porte sobre os céus de um colégio.
Scramble! é uma releitura de um conto de fadas. O filme adapta a história de Rapunzel, aquela que foi aprisionada pelo pai em uma torre. No filme, a protagonista, também 'Rapunzel', é uma garota envolta em meio às incertezas da adolescência. Como em um videogame real, uma batalha de aeronaves de guerra cobre os céus do Central Highschool serve como pano de fundo para as nuances que marcam relacionamentos entre adolescentes: dúvidas, paixões e corações partidos.
Três garotos assumem os cockpits de suas aeronaves para defender a escola de um ataque aéreo. Storm, a bordo do P-40, ou Warhalk, Hunter, com seu P-51, chamado Mustang, e Stan, no F-6 Hellcat atendem ao chamado da torre de comando, convocando-os para impedir que o colégio seja destruído por aeronaves inimigas. No solo, cheerleaders agitam pompons e incentivam o trio na luta pela proteção aos seus domínios, as instalações de Central High. Em meio a estratégias de guerra e combates aéreos, uma trama adolescente acontece nos corredores do colégio, quando Rapunzel e cai de amores por Stan e vive o que toda garota já enfrentou ou vai enfrentar algum dia: a dor e a delícia de um romance juvenil.
Produção independente, Scramble! não tem vergonha de se assumir uma comédia adolescente, com toques de realidade fantástica. De estética simples, como um bom filme independente deve ser, traz questões relevantes para todos que estão ou já passaram pelos 16, 17 anos: dúvidas, inquietações, personalidades instáveis, amores nem sempre correspondidos.
Assista Scramble! como uma experiência cultural. Os combates aéreos como uma metáfora para vitórias e dissabores da vida adolescente são ingredientes suficientes para fazer desta comédia algo poucas vezes visto em um filme independente.
SCRAMBLEL!'s UAV ORIGIN

"An earthquake caused my movie."

by Jody Rawley
In 1987, seven years before an earth shaking revelation, I stood with flamboyant Aerobureau founder, Chuck deCaro, in a hangar in Scaggsville, MD, studying two AAI UAV's. Chuck planned to deploy them from the ground (initially), and command them and their cameras from control stations inside the Aerobureau Lockheed Electra ("ours was the L-188 four engine turboprop passenger liner, not a 1930's A. Earhart ten seater"). The UAV's would join the rest of the Aerobureau arsenal, the Fourth Estate's air force (a flying television station with satellite uplink and an, at the time, still classified, side looking airbourne radar system). It was one of journalism's most heroic and ingenious attempts to serve a free press. It failed in the 1980's because the news networks saw it as an expensive diversion from thier star focused product. In New York City, deCaro was told in person by representatives of the big three (ABC, CBS, NBC), that each wanted a contract with Aerobureau as soon as another signed on first. They did not want to be left behind. They also didn't want a gadget to get any of Dan Rather's spotlight. They were determined to maintain investment in celebrity anchors and reporters, instead of new technology. By the way, The Museum of Broadcast Communications records that network news audiences and influence "peaked in the early 1980's."

Now jump ahead those seven years. In 1995, I was in Los Angeles when the 6.7 Richter Northridge earthquake devastated the city. I went to the roof of the Ravenswood apartments, and as the sun rose, the sky began to fill with helicopters. News teams were beaming live news coverage. I knew the typical Jet Ranger up there was a multimillion dollar aircraft, burning hundreds of dollars worth of fuel per hour, and carrying a pilot, reporter, cameraman, and often a co-pilot or a producer; four lives at risk. I thought back to those UAVs in Maryland. I knew you could unman and scale down the platform, fly it remotely, and get the same pictures. I knew you could accomplish the mission at a fraction of the cost, with no risk of life in the air, and a vastly reduced threat of danger to people and property on the ground. I returned to Virginia and incorporated US-UAV, a newscopter R&D company.

An innovative sport helicopter company in Eatern Virginia was my first stop. I toured and discussed my idea with a salesman and haded the company owner a laundry list of changes I'd like made to thier two seater sportscopter. They followed the list successfully a new product and a military contract to produce the UAV. Meanwhile, prohibitions in the use of UAVs in the National Commercial Airspace helped keep the newscopter concept grounded. Then, selling the idea to television station news directors proved to be a hurdle too high. We thoeretically had the cost of a full system, chopper and remote cockpit (a comfortable, dedicated office room), down to the same purchase cost as a standard news microwave truck. The local affiliate news directors in the 1990's though followed the network path that deCaro confronted a decade earlier. They wanted newscopters mostly to relay pictures of their celebrity helicopter pilot/reporter." In a replay of Aerobureau history, US-UAV closed. My hobby level interest in UAVs and telepresnt flight began.

What I call "fully immersive telepresent flight" turned out to be a particularly tough sell. I'd draw pictures and act it out and describe it briefly or at length, simply and or in detail, and too, too many people just couldn't grasp the concept. I finally decided that what I needed was an infomercial, something glitzy, fun, entertaining, and filled with seemless examples and illustrations of telepresent flight. I needed something that would appeal to a new generation. I wrote a screenplay.
I've been a radio controlled airplane fan for a long time. Years ago I noticed a necessary future convergence of the RC and UAV technologies and capabilities. Each year prices drop on UAV components and each year RC enthusiasts spend more on modern equipment. We've arrived where military planes use hobby engines and parts and hobbyists are being recruited to fly UAVs in Afganistan and Iraq. The control stations for UAVs incrementally approach the full field, high resolution see and avoid piloting views described by US-UAV. The screenplay, SCRAMBLE!, sets this world of new wonders in high school.

In SCRAMBLE!, all high school sports have been replaced with aerial combat. High school students build, fly, and battle, 1/4 scale WW II "warbirds." For the boys and girls, flying the planes via remote cockpits, the pilotng experience is indistinguishable from that of a pilot flying from inside a full scale plane.

In 2004 I visited a friend who was helping me sell a book. Laura Kirkpatrick read the SCRAMBLE! rough draft and wanted to polish it. She also wanted me to produce it (I had a television production company). When she said she'd help I agreed. She fixed the script and made it into a finished movie.

If it hadn't been for that earthquake in 1995 though, none of this would have happened.





PREMIERE

It looked and sounded great on the big screen!
SCRAMBLE! was shown to a select audience at the Civil Air Patrol regional conference in Richmond, then
premiered commercially May 29, 2009 in Buchanan Virginia at the Buchanan Theater on Main Street.
We received a warm welcome from the town, with displays at the library.
THANK YOU BUCHANAN.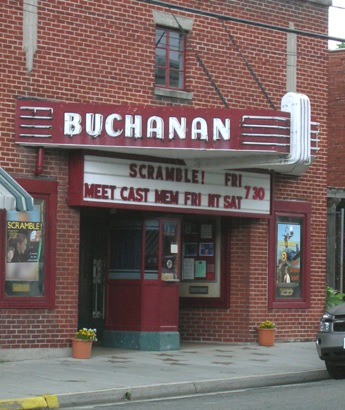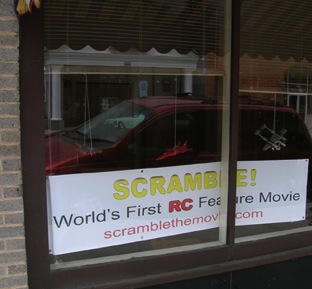 Library front window on Main Street accross from the theater.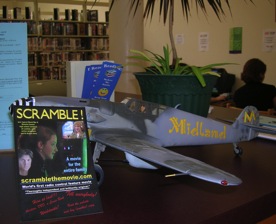 The reference desk.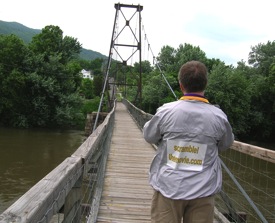 David Witt on the bridge into town.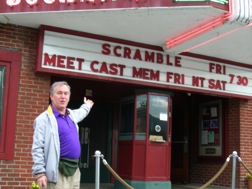 Actor, David Witt (Principal Simon in SCRAMBLE!), points to the marquee.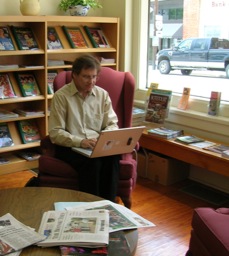 Jody edits and polishes the SCRAMBLE! e-book (Rapunzel In Control), in the Buchanan Library.